DIY Tutorial: Canvas Tote Bags

Create a fun new bag that's perfect for carrying all your library books!
The tutorial was created by Morgan Lockard, the Adult/Teen Services Librarian at our Carrico/Fort Thomas Branch. If you have any questions about the tutorial, please email her at mlockard@cc-pl.org.
Supplies Needed
Canvas bag
Stencil brush
Paint pots
Stencils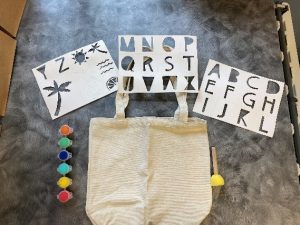 Step 1
Prepare your bag to be painted! You can tear the stencils apart into individual squares and place a piece of paper or cardboard inside the bag to prevent the paint from bleeding through to the other side.
Step 2
Decide on a design for your bag before you paint. Secure your stencils in place with a piece of tape before painting. The provided stencils also can be peeled to have a sticky back to help keep them in place.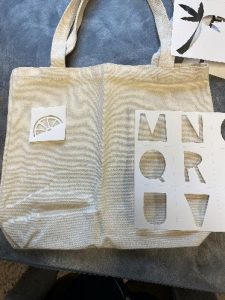 Step 3
Use the stencil brush to apply paint to your bag. Use a dabbing motion when painting rather than back and forth so that paint does not seep under the stencil.
Be sure to clean your brush with water before changing colors. Try painting in sections so that your stencils don't overlap with wet paint.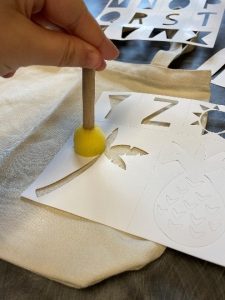 Step 4
Allow your bag to dry completely. You can also heat set your bag by placing a towel over the top and using an iron on your design. You could also put the bag in the dryer by itself for an hour to heat set the bag.
More News