Cozy Up with Young Adult Holiday Books

Whether you're a young adult or just young at heart, these books will help get you into the holiday spirit.

'Tis the season to be reading! Spend some time relaxing from the hustle and bustle of the holiday season to unwind with a good book. From rom-coms to historical fiction and everything in-between, these young adult books are the perfect winter reads.
YA Holiday Books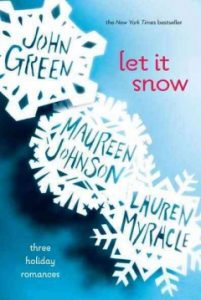 Let it Snow: Three Holiday Romances by John Green, Maureen Johnson and Lauren Myracle
Written by three beloved YA authors, this trio of holiday tales follows the antics of small-town teens during a Christmas Eve snowstorm in Gracetown. Each author gives their own unique spin on Gracetown's inhabitants in separate but interconnected storylines. This book was also made into a Netflix movie by the same name.
---

What Light by Jay Asher
Author Jay Asher follows up his bestselling novel, Thirteen Reasons Why, with a moving story that takes place during the holidays. The book features Sierra, whose family owns a Christmas tree farm and packs up every winter to sell the trees in California. However, this particular year is different. Sierra strikes up a holiday romance with a local teen boy, Caleb. As Caleb and Sierra get to know each other, it quickly becomes clear to the couple that not everything will be shiny and bright for them this holiday season.
---

Dash and Lily's Book of Dares by Rachel Cohn and David Levithan
What happens when two book-obsessed, polar opposite New York City teenagers send each other on a series of adventures in the days leading up to Christmas? To find out, spend some time with Dash, Lily, and their delightful group of friends and family. This heartfelt book is full of humor and lots of holiday hijinks. Netflix also adapted the book into a series that garnered critical acclaim.
---

Twelve Days of Dash and Lily by Rachel Cohn and David Levithan
Couldn't get enough of Dash, Lily and their eccentric inner-circle? Well, don't worry. Cohn and Levithan catch readers up with their favorite characters in this sequel to Dash and Lily's Book of Dares, which takes place a year after the events of the first book. When Lily has lost her Christmas spirit, it's up to Dash to help her find it again.
---

My True Love Gave to Me: Twelve Holiday Stories edited by Stephanie Perkins
Author Stephanie Perkins (Anna and the French Kiss; Lola and the Boy Next Door; Isla and the Happily Ever After) has gathered stories from twelve talented writers to compile a book of holiday short stories. There's a holiday-themed story for everyone in this collection.
---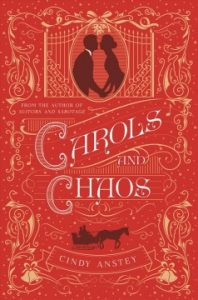 Carols and Chaos by Cindy Anstey
A lady's maid and valet are busy working at a country estate during the holiday season in 1817. When they meet, romance and mischief quickly follow. Fans of Downton Abbey are sure to enjoy this yuletide take on historical fiction.
---

Together at Midnight by Jennifer Castle
It's the holiday season in New York City and two teens meet under tragic circumstances. The event inspires them to bring some kindness and holiday cheer to strangers throughout the city. In the days leading up to New Year's Eve, the two begin to grow closer during their kindness crusade.
---

Blame it on the Mistletoe by Beth Garrod
A Gen-Z version of The Holiday, this book shows readers what happens when a popular social media influencer switches places with a fan for the Christmas season. They are each trying to escape their "normal" lives, but find much more than they initially bargained for.
---

So, This is Christmas by Tracy Andreen
16-year old Finley Brown returns home to her family's inn from boarding school and is surprised to discover that life at home isn't at all like it was before she left for school. That's not the only surprise she's in store for that winter break. One of her classmates has decided to spend Christmas at her family's inn.
---

The Afterlife of Holly Chase by Cynthia Hand
A modern take on A Christmas Carol, but with a twist. Holly Chase was given a chance to change her ways after being visited by three ghosts five years ago. She didn't learn from the ghosts' visits and is now forced to spend her afterlife stuck at 17 and working as the Ghost of Christmas Past. This year, the "Scrooge" that Holly's been assigned to help just might change her life too.
---

The Holiday Switch by Tif Marcelo
What happens when two teen coworkers accidentally switch phones during the holiday season? Lila is spending her last winter break of high school working at a local inn, where her boss's nephew will be working alongside her. When they switch phones one afternoon, the two are in for a few surprises. This feel-good holiday romance is perfect for curling up with a warm mug of hot cocoa.
---

I'm Dreaming of a Wyatt Christmas by Tiffany Schmidt
When Noelle is in need of some extra money to audition for an elite ballet academy, she agrees to spend her winter break on a ski trip with one of her babysitting clients. This seems like the perfect way to spend the winter break while also earning money for her audition, however, she wasn't expecting the family's older half-brother to be along for the trip. Schmidt's book is a perfect read for fans of holiday rom-coms.
---
More News