Celebrate International Children's Book Day with 'The Snowy Day'

April 2 is International Children's Book Day. We're celebrating by honoring one of our favorite classic picture books and the book's author.
The weather may be warming up, but that doesn't mean we can't still enjoy a noteworthy children's book about the magic of snow days.
The Snowy Day by Ezra Jack Keats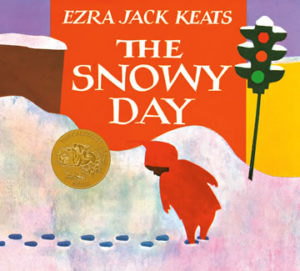 At first glance, The Snowy Day might seem like any other beloved classic children's picture book. However, Ezra Jack Keats' story of a young boy named Peter enjoying a snow-filled city day is more than that; it holds a special place in literary history.
Inspired by the snowy days he experienced while growing up in Brooklyn, author Ezra Jack Keats wrote and illustrated his own version of a snowy day in the city. It features Peter, who wakes to find his city covered in snow as far as he can see. Wearing a red snowsuit, he runs outside to explore, play and watch neighborhood boys have a snowball fight.
Having noticed a lack of diversity in picture books, Keats illustrated Peter as Black using his signature collage style. Though he believed that there needed to be more representation of diverse characters, Keats hadn't initially intended to make a social statement. By creating an African-American child protagonist, he emerged as a major figure in children's literature. The character of Peter would go on to appear in six of Keats' later works.
Published in 1962, The Snowy Day quickly garnered critical praise and popularity among readers. The book was then awarded the 1963 Caldecott Medal, which recognizes the best American picture books for children each year. This meant that it was the first picture book featuring a Black main character to win a children's book award, officially cementing The Snowy Day's place in literary history.
The Ezra Jack Keats Foundation's website perfectly sums up the book's impact by stating, "In 1963 The Snowy Day won the Caldecott and broke the color barrier in mainstream children's book publishing by being embraced across social and ethnic boundaries."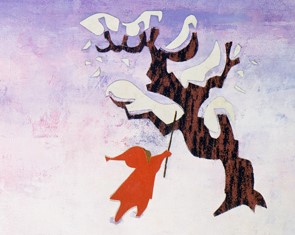 Keats received numerous honors and accolades during his life, and after his death at the age of 67 in 1983. The impact of The Snowy Day and Keats' work is still visible today. Keats has been the namesake of public schools and library reading rooms, had parades thrown in his honor and even made four appearances on Mister Rogers' Neighborhood. In 2017, USPS released Forever stamps with four different images from The Snowy Day. Visit Peter for yourself at Prospect Park in Brooklyn, NY, where there's a statue of Peter and his dog, Willie.
Keats' contribution to literature also continues through the work of the Ezra Jack Keats Foundation, which recognizes emerging writers and illustrators with their annual Ezra Jack Keats Award.
According to the foundation's website: "The Ezra Jack Keats Award was created to nurture illustrators and writers, early in their careers, who create extraordinary books that reflect our diverse population, the universal experience of childhood and the strength of family and community. Over the years the EJK has succeeded in fostering the early careers of many of our country's leading children's bookmakers." The winners are announced every year on the second Tuesday in March.
Check out a copy of The Snowy Day from our collection.
More News