We Suggest: Books for STEAM Month
STEAM Month is here! Celebrate by picking up a book from our collection.
March is STEAM Month at the library. Not only do we have a lineup of engaging programs all month long, but we also have a reading challenge. Here's how it works:
Mark each STEAM-related book read on the Beanstack app.

If you do not have the Beanstack app, visit our Beanstack page for info.

Receive one entry per category (Science, Technology, Engineering, Art and Math). Participants can earn a total of five entries.

Enter for a chance to win two tickets to the Cincinnati Museum Center.
If you need help finding titles, check out our staff's suggestions below.
Books to Read for STEAM Month

A Wrinkle in Time by Madeleine L'Engle
"One-part sci-fi series, one-part fantasy, L'Engle's book doesn't get bogged down in realistic science but instead celebrates the values that allow science to flourish. While I prefer reading the original book, there is also a graphic novel!"
– Amy Carroll, adult/teen programming coordinator
---
Feast by Firelight by Emma Frisch
"Part of the allure of camping is self-sufficiency. To me, roughing it is for the underprepared. This book features as much to consider before you venture out as it does recipes for while you're out. Chew on how to build your fire (engineering), keep it burning (physics), use your tools (technology), add your ingredients (math), and allow it to affect your senses (art)."
– Craig Branch, adult/teen services programmer, Carrico/Fort Thomas Branch
---
Night Walk to the Sea by Deborah Wiles, illustrated by Daniel Miyares
"This picture book is a great introduction to environmental science about Rachel Carson, a notable conservationist. It is heartfelt and inspiring for little nature lovers."
– Katherine Sallee, children's services programmer, Alexandria Branch
---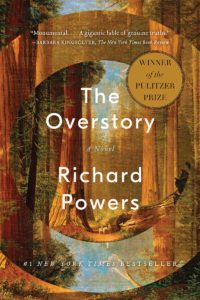 The Overstory by Richard Powers
"It's a series of stories about people from across the world that are connected by trees. As the stories start to connect and the consequences of the character's actions begin to unfold, the ending unfurls into chaos. The science that underpins the story is both fascinating and heartbreaking. You certainly won't look at the ginkgo tree in front of the Cold Spring Branch the same way again."
– Leah Byars, collection services assistant
---
Will My Cat Eat My Eyeballs? by Caitlin Doughty
"This book is pretty morbid and fun. It's filled with real questions children have asked the author, a professional mortician, about death. Doughty does a great job of being honest and scientific, but never harsh or condescending."
– Lisa Kuhn, patron services assistant, Newport Branch
---
Thing Explainer by Randall Munroe
"Randall Munroe's books are always great. The author of popular webcomic XKCD, you will most definitely learn something and have fun while reading them. What If? and How To are other titles in our collection authored by Munroe with an emphasis on STEAM."
– Max Sulken, patron services assistant, Carrico/Fort Thomas Branch
---
Freakonomics by Steven Levitt and Stephen J. Dubner
"Among other things, it helped me understand this world we are living in a little bit better." 
– Melissa Roth, patron services assistant, Newport Branch
---
More News