10 Book Trilogies

Good things come in threes.
Discover your next reading obsession by taking a look at the list of trilogies below.
Southern Reach Trilogy by Jeff VanderMeer
"The book describes a team of four women (a biologist, an anthropologist, a psychologist and a surveyor) who set out into an area known as Area X. The area is abandoned and cut off from the rest of civilization. They are the 12th expedition. The other expeditions have been fraught with disappearances, suicides, aggressive cancers and mental trauma." – "Annihilation" Summary
Book 1: "Annihilation"
Book 2: "Authority"
Book 3: "Acceptance"
"Annihilation" received a movie adaptation earlier in 2018.
MaddAddam Trilogy by Margaret Atwood
"In "Oryx and Crake," a man struggles to survive in a world where he may be the last human. In search of answers, he embarks on a journey through the lush wilderness that was so recently a great city, until powerful corporations took mankind on an uncontrolled genetic engineering ride." – "Oryx and Crake" Summary
Book 1: "Oryx and Crake"
Book 2: "The Year of the Flood"
Book 3: "MaddAddam"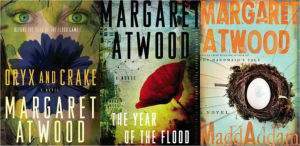 The Night Trilogy by Elie Wiesel
"The first book in the trilogy, "Night," is one of the masterpieces of Holocaust literature. First published in 1958, it is the autobiographical account of an adolescent boy and his father in Auschwitz. Elie Wiesel writes of their battle for survival and of his battle with God for a way to understand the wanton cruelty he witnesses each day." – "Night" summary
Book 1: "Night"
Book 2: "Dawn"
Book 3: "Day"
The Bill Hodges Trilogy by Stephen King
"The stolen Mercedes emerges from the pre-dawn fog and plows through a crowd of men and women on line for a job fair in a distressed American city. Then the lone driver backs up, charges again, and speeds off, leaving eight dead and more wounded. The case goes unsolved and ex-cop Bill Hodges is out of hope when he gets a letter from a man who loved the feel of death under the Mercedes's wheels…" – "Mr. Mercedes" Summary
Book 1: "Mr. Mercedes"
Book 2: "Finders Keepers"
Book 3: "End of Watch"
The Grisha Trilogy by Leigh Bardugo
"Soldier. Summoner. Saint. Orphaned and expendable, Alina Starkov is a soldier who knows she may not survive her first trek across the Shadow Fold―a swath of unnatural darkness crawling with monsters. But when her regiment is attacked, Alina unleashes dormant magic not even she knew she possessed." – "Shadow and Bone" Summary
Book 1: "Shadow and Bone"
Book 2: "Siege and Storm"
Book 3: "Ruin and Rising"
The Magicians Trilogy by Lev Grossman
"Quentin Coldwater is brilliant but miserable. A high school math genius, he's secretly fascinated with a series of children's fantasy novels set in a magical land called Fillory, and real life is disappointing by comparison. When Quentin is unexpectedly admitted to an elite, secret college of magic, it looks like his wildest dreams may have come true. But his newfound powers lead him down a rabbit hole of hedonism and disillusionment, and ultimately to the dark secret behind the story of Fillory. The land of his childhood fantasies turns out to be much darker and more dangerous than he ever could have imagined…" – "The Magicians" Summary
Book 1: "The Magicians"
Book 2: "The Magician King"
Book 3: "The Magician's Land"
A T.V. series based on the trilogy premiered in December 2015 on Syfi. The show is currently still on the air.
Infernal Devices Trilogy by Cassandra Clare
"The series follows Tessa Gray, an orphaned teenage girl who discovers she has the power to shape-shift, but doesn't bear a mark that shows she is a warlock. She is forced to learn how to control this newly established power and navigate the new world she was forcefully introduced into. The series follows Tessa's life as she is forced to collaborate with the Shadowhunters in order to protect herself, her family and her loved ones." – Series Summary
Book 1: "Clockwork Angel"
Book 2: "Clockwork Prince"
Book 3: "Clockwork Princess"
The Hunger Games Trilogy by Suzanne Collins
"The Hunger Games universe is a dystopia set in Panem, a country consisting of the wealthy Capitol and 12 districts in varying states of poverty. Every year, children from the districts are selected to participate in a compulsory annual televised death match called The Hunger Games." – Series Summary
Book 1: "The Hunger Games"
Book 2: "Catching Fire"
Book 3: "Mockingjay"
The Inn BoonsBoro Trilogy Nora Roberts
"The historic hotel in BoonsBoro, Maryland, has endured war and peace, changing hands, even rumored hauntings. Now it's getting a major facelift from the Montgomery brothers and their eccentric mother. As the architect of the family, Beckett has little time for a social life. But there's another project he's got his eye on: the girl he's been waiting to kiss since he was sixteen." – "The Next Always" Summary
Book 1: "The Next Always"
Book 2: "The Last Boyfriend"
Book 3: "The Perfect Hope"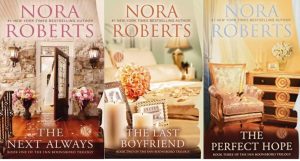 The Bourne Trilogy by Robert Ludlum
Bourne are a series of three novels by Robert Ludlum based on the fictional spy Jason Bourne. The series has since been further extended by Eric Van Lustbader after the death of Ludlum.
"His memory is a blank. His bullet-ridden body was fished from the Mediterranean Sea. His face has been altered by plastic surgery. A frame of microfilm has been surgically implanted in his hip. Even his name is a mystery. Marked for death, he is racing for survival through a bizarre world of murderous conspirators—led by Carlos, the world's most dangerous assassin. Who is Jason Bourne?" – "The Bourne Identity" Summary
Book 1: "The Bourne Identity"
Book 2: "The Bourne Supremacy"
Book 3: "The Bourne Ultimatum"
More News
Sources
All of the book summaries were provided by Amazon or the publisher.