Zoom Program: Tween Book Club – "Song for a Whale" by Lynne Kelly
Friday, December 11, 2020
4:00 pm - 5:00 pm
Sometimes reading is more fun when you have others to talk to. Registering for this program puts you on a list to pick up a free copy of this month's club pick, Song for a Whale by Lynne Kelly, from the library. Available while supplies last.
If you would like to be a part of the club but have already read the book, already own a copy or wish to check one out instead you are welcome to do so. Contact Jessi Holloway at jholloway@cc-pl.org to register this way.
This book club is for ages 8-14.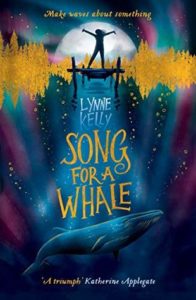 From fixing the class computer to repairing old radios, twelve-year-old Iris is a tech genius. But she's the only deaf person in her school, so people often treat her like she's not very smart. If you've ever felt like no one was listening to you, then you know how hard that can be.
When she learns about Blue 55, a real whale who is unable to speak to other whales, Iris understands how he must feel. Then she has an idea: she should invent a way to "sing" to him! But he's three thousand miles away. How will she play her song for him?
---
This is a live program that will be conducted via Zoom, a free online video conferencing
platform. Registration is required. On the day of the program, we will email you with the link to join the live program. You are not required to have a Zoom account . If you would like to create a free account though, you may do so at https://zoom.us/signup .
If you have any questions, please contact Jessi Holloway at jholloway@cc-pl.org.
Age Range: 8-14
Register for this event
Registrations are closed for this event.