Zoom Program: Tween Book Club – "Me and Sam-Sam Handle the Apocalypse"
Friday, January 8, 2021
4:00 pm - 5:00 pm
Sometimes reading is more fun when you have others to talk to. Registering for this program puts you on a list to pick up a free copy of this month's club pick, Me and Sam-Sam Handle the Apocalypse by Susan Vaught, from the library. Available at the Newport Branch while supplies last.
If you would like to be a part of the club but have already read the book, already own a copy or wish to check one out instead you are welcome to do so. Contact Jessi Holloway at jholloway@cc-pl.org to register this way.
This book club is for ages 8-14.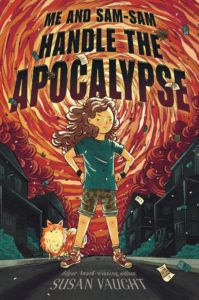 When the cops show up at Jesse's house and arrest her dad, she figures out in a hurry that he's the #1 suspect in the missing library fund money case. With the help of her (first and only) friend Springer, she rounds up suspects (leading to a nasty confrontation with three notorious school bullies) and asks a lot of questions. But she can't shake the feeling that she isn't exactly cut out for being a crime-solving hero.
Jesse has a neuro-processing disorder, which means that she's "on the spectrum or whatever." As she explains it, "I get stuck on lots of stuff, like words and phrases and numbers and smells and pictures and song lines and what time stuff is supposed to happen." But when a tornado strikes her small town, Jesse is given the opportunity to show what she's really made of—and help her dad.
---
This is a live program that will be conducted via Zoom, a free online video conferencing
platform. Registration is required. On the day of the program, we will email you with the link to join the live program. You are not required to have a Zoom account . If you would like to create a free account though, you may do so at https://zoom.us/signup .
If you have any questions, please contact Jessi Holloway at jholloway@cc-pl.org.
Age Range: 8-14
Register for this event
Registrations are closed for this event.