Cup of Crime Book Club – "The Book Woman of Troublesome Creek" by Kim Richardson
Wednesday, February 10, 2021
7:00 pm - 8:00 pm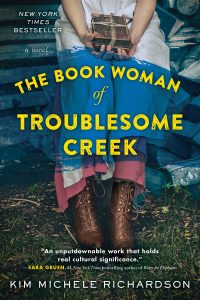 The hardscrabble folks of Troublesome Creek have to scrap for everything—everything except books, that is. Thanks to Roosevelt's Kentucky Pack Horse Library Project, Troublesome's got its very own traveling librarian, Cussy Mary Carter.
Cussy's not only a book woman, however, she's also the last of her kind, her skin a shade of blue unlike most anyone else. Not everyone is keen on Cussy's family or the Library Project, and a Blue is often blamed for any whiff of trouble. If Cussy wants to bring the joy of books to the hill folks, she's going to have to confront prejudice as old as the Appalachias and suspicion as deep as the holler.
Inspired by the true blue-skinned people of Kentucky and the brave and dedicated Kentucky Pack Horse library service of the 1930s, The Book Woman of Troublesome Creek is a story of raw courage, fierce strength, and one woman's belief that books can carry us anywhere—even back home.
Due to Covid-19, The Cup of Crime Book Club has limited access to borrow books from other library systems for book clubs. We will be reading some books that are not mysteries or true crime.
About the event
---
This is a live program that will be conducted via Zoom, a free online video conferencing platform.
For those attending via Zoom, on the day of the program, we will email you with a link to join the live program. You are not required to have a Zoom account. However, if you would like to create a free account you may do so at https://zoom.us/signup.
To join this Zoom meeting, please email Maggie Gosney at mgosney@cc-pl.org.
Age Range: Adult