Zoom Program: Author Chat with Traci Sorell
Thursday, November 5, 2020
6:30 pm - 7:00 pm
Award winning children's author, Traci Sorell, is here to answer your burning writing questions and share about her work with the amazing Global Read Aloud title "Indian No More".
Attendees are entered in a drawing for signed copies of the book "Indian No More".  Winners will be drawn at the end of the program.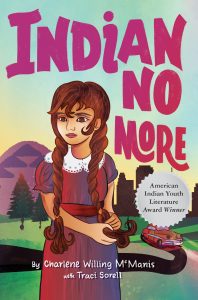 Regina Petit's family has always been Umpqua, and living on the Grand Ronde Tribe's reservation is all ten-year-old Regina has ever known. But when the federal government enacts a law that says Regina's tribe no longer exists, Regina becomes "Indian no more" overnight.
Regina's father signs the family up for the federal Indian Relocation Program and moves them to Los Angeles. Regina's never met kids of other races, and they've never met a real Indian. For the first time in her life, Regina comes face to face with the viciousness of racism, personally and toward her new friends.
---
This is a live program that will be conducted via Zoom, a free online video conferencing platform. Registration is required. On the day of the program, we will email you with the link to join the live program. You are not required to have a Zoom account. If you would like to create a free account though, you may do so at https://zoom.us/signup.
If you have any questions, please email Jennifer Gooch at jgooch@cc-pl.org.
Age Range: All Ages
Carrico/Fort Thomas Branch
Register for this event
Registrations are closed for this event.