Real Men Read – "The Library Book" by Susan Orlean
Thursday, May 27, 2021
7:00 pm - 9:00 pm
About the Book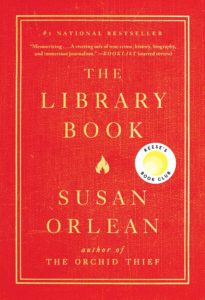 On the morning of April 28, 1986, a fire alarm sounded in the Los Angeles Public Library. The fire was disastrous: it reached two thousand degrees and burned for more than seven hours. By the time it was extinguished, it had consumed four hundred thousand books and damaged seven hundred thousand more. Investigators descended on the scene, but more than thirty years later, the mystery remains: Did someone purposefully set fire to the library—and if so, who?
Weaving her lifelong love of books and reading into an investigation of the fire, award-winning New Yorker reporter and New York Times bestselling author Susan Orlean delivers a "delightful…reflection on the past, present, and future of libraries in America" (New York magazine) that manages to tell the broader story of libraries and librarians in a way that has never been done before.
About the author
Susan Orlean has been a staff writer at The New Yorker since 1992. She is the author of seven books, including Rin Tin Tin, Saturday Night, and The Orchid Thief, which was made into the Academy Award–winning film Adaptation.
About the event
---
Everyone, age 6 or older, who attends library programs are required to wear masks.
Please note any accommodation requests in the Special Needs section of the registration form.
All those not arriving together must maintain a 6-foot social distance.
---
If Campbell County is RED on the Kentucky Department of Public Health's COVID-19 Dashboard, all in-person programs will be canceled and those registered will be offered the online option.
---
This program will take place outside our current hours of operation. For those attending in-person, a staff member will allow you entrance to the building.
If you have any questions, please contact Dave Anderson at danderson@cc-pl.org
Register for this event