You've Been Booked! – "Attack on Titan Vol. 1" by Hajime Isayama
Monday, March 7, 2022
7:00 pm - 8:45 pm
"You've Been Booked!" is a book club that meets once per month. Open to both adults and teens who are interested in reading young adult literature!
---
This month's book: Attack on Titan vol. 1 by Hajime Isayama!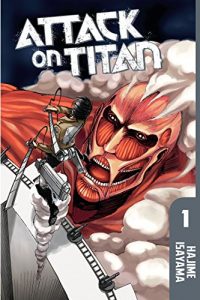 "For the past century, what's left of mankind has hidden in a giant, three-walled city, trapped in fear of the bizarre, giant humanoids known as the Titans. Little is known about where they came from or why they are bent on consuming humankind, but the sudden appearance of an enormous Titan is about to change everything…" – Goodreads.com
---
Please note any accommodation requests in the Special Needs section of the registration form.
If you have any questions, please contact Danielle at dheiert@cc-pl.org.
*Zoom option available upon request for those who wish to join virtually.
Age Range: 11-19
Register for this event
Registrations are closed for this event.