YouTube Program: West African Kora (harp) presented by Sean Gaskell
Sunday, July 12, 2020
6:00 pm
The Kora is a 21-stringed harp native to the Mandinka people of West Africa. Its origins  date back over 300 years. But with a sound that is melodic, resonant, rhythmic, and intricate, it is just as present in modern West African life as ever.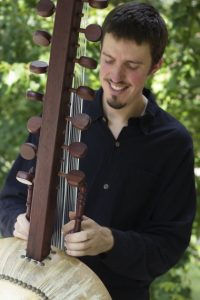 Sean Gaskell learned how to play the Kora throughout multiple visits to the instrument's homeland in Gambia, West Africa. The music is traditionally played by oral and musical historians known as Griots (Gree-ohs). A very melodic and seemingly peaceful instrument, traditional songs for the Kora contrarily tell ancient stories of war and hardship, while others praise people of high political status and those who helped expand the Mande empire.
On Sunday, July 12 at 6 pm, join us at we present Sean Gaskell and the Kora in an amazing evening with an incredible talent as Sean shares the contemplative sounds, history, legends and stories of the Kora!
---
The video for this program will be available on our YouTube channel at 6 pm on July 12.
Link to our YouTube channel – https://www.youtube.com/user/campbellcolibrary.
If you have any questions, please contact Chantelle at cphillips@cc-pl.org.
---
You may learn more about Sean Gaskell and the Kora at http://seangaskell.com.
Sean is also open to taking questions about the Kora after this presentation at sean.kora@gmail.com.