Youtube Program: Halloween Pumpkin Carving Challenge
Friday, October 16, 2020
12:00 pm
Everyone claims to have a hidden talent for making scary and amazing jack o'lanterns!  Let's put it to the test shall we? The librarians at Newport, Carrico/Fort Thomas and Cold Spring are ready to rumble…..
They will give it their best at one of the below designs and win their branch the coveted Jack O' Lantern Trophy.  The winner will be decided by comments on the YouTube video and by staff after the video is post on Friday, October 16th.  Who will win?  You help decide!
Patrons are also welcome to join in on the fun, and post their own attempts on social media, and please share it with us at the Campbell County Public Library!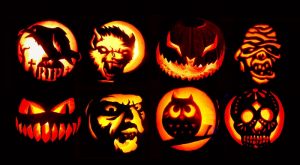 The video for this program will be available on our YouTube channel at 12 PM o​n ​October 16th.
Link to our YouTube channel – ​https://www.youtube.com/user/campbellcolibrary​.
If you have any questions, please contact Clara Gerner at cgerner@cc-pl.org
Age Range: 18+