Tween Book Club: 'Amulet' by Kazu Kibuishi
Friday, December 8, 2023
4:00 pm - 5:00 pm
Sometimes reading is more fun when you have others to talk to. Registering for this program puts you on a list to pick up a free copy of this month's club pick, Amulet by Kazu Kibuishi.

Register for this program to get your copy of the book. If you can't pick it up at Newport, tell us your location choice using the special needs section of the registration form.
Starting November 10th, pick up your book from the library.
Read and enjoy the book at your own pace.
Come chat about this month's book and other books you love in person or online on December 8th at 4:00 pm at the Newport Branch or via Zoom.
This book club is for ages 8-14.
If you prefer to join via Zoom, let us know in the notes section and a link will be sent.
---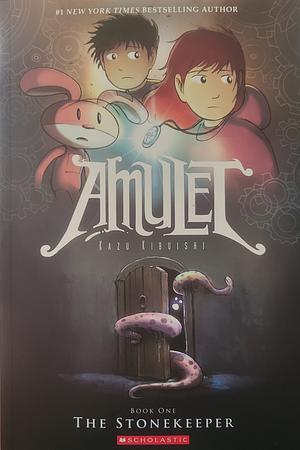 After the tragic death of their father, Emily and Navin move with their mother to the home of her deceased great-grandfather, but the strange house proves to be dangerous. Before long, a sinister creature lures the kids' mom through a door in the basement. Em and Navin, desperate not to lose her, follow her into an underground world inhabited by demons, robots, and talking animals.

Eventually, they enlist the help of a small mechanical rabbit named Miskit. Together with Miskit, they face the most terrifying monster of all, and Em finally has the chance to save someone she loves.

---
Please note any accommodation requests in the Special Needs section of the registration form.
We encourage adults to remain in the library but to allow their tween/teen to attend the program alone – only if both are comfortable. If an adult must be present, they must sit with the tween/teen.
If you have any questions, please contact Jessi at jholloway@cc-pl.org.
Meeting Room: Newport - Kinsella Community Room Main Level
Age Range: 8-14
Register for this event