Tuesday Book Club: Americanah by Chimamanda Ngozi Adichie
Tuesday, August 17, 2021
10:00 am - 11:30 am
The Tuesday Book Club meets on the third Tuesday of every month (with an exception here and there).  We discuss a wide variety of genres but focus on popular fiction and nonfiction.  Contact Amy Carroll with any questions.  Acarroll@cc-pl.org
Americanah
By Chimamanda Ngozi Adichie
Ifemelu and Obinze are young and in love when they depart military-ruled Nigeria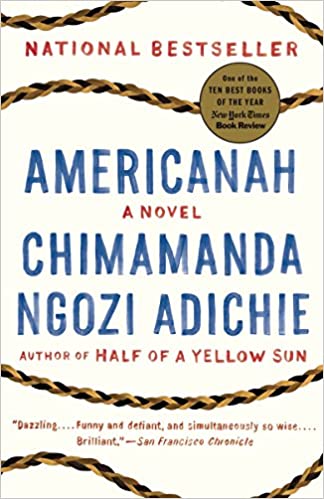 for the West.  Beautiful, self-assured Ifemelu heads for America, where despite her academic success, she is forced to grapple with what it means to be black for the
first time.  Quiet, thoughtful Obinze had hoped to join her, but with post-9/11 America closed to him, he instead plunges into a dangerous undocumented life in London.  Fifteen years later, they reunite in a newly democratic Nigeria and reignite their passion for each other and for their homeland.
COVID POLICY
If Campbell County is RED in Kentucky Department for Public Health's COVID-19 Dashboard, everyone, age 6 or older, who attends library programs is required to wear a mask.
Please note any accommodation requests in the Special Needs section of the registration form.
If you have any questions, please contact Amy Carroll at Acarroll@cc-pl.org
All State and Federal COVID mandates will be followed.
Register for this event
Registrations are closed for this event.