Showing of The Diamond Eye: Virtual Author Talk with Kate Quinn
Tuesday, October 25, 2022
7:00 pm - 8:00 pm
Join us in person at the Cold Spring branch for this captivating virtual conversation with historical fiction writer Kate Quinn as she discusses her newest release, The Diamond Eye, and her other works. Quinn is the author of several New York Times bestsellers, including The Alice Network, The Huntress, and The Rose Code.
To reserve a copy of a Kate Quinn book, click here.  
The Diamond Eye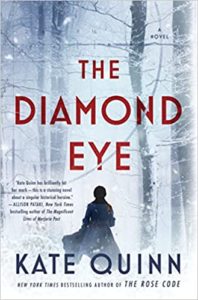 Quinn's latest book, The Diamond Eye, offers an unforgettable World War II tale of a quiet bookworm who becomes history's deadliest female sniper. Based on a true story.
In 1937 in the snowbound city of Kiev (now known as Kyiv), wry and bookish history student Mila Pavlichenko organizes her life around her library job and her young son – but Hitler's invasion of Ukraine and Russia sends her on a different path. Given a rifle and sent to join the fight, Mila must forge herself from studious young woman to deadly sniper – a lethal hunter of Nazis known as Lady Death. When news of her three hundredth kill makes her a national heroine, Mila finds herself torn from the bloody battlefields of the eastern front and sent to America on a goodwill tour.
Still reeling from war wounds and devastated by loss, Mila finds herself isolated and lonely in the glittering world of Washington, DC – until an unexpected friendship with First Lady Eleanor Roosevelt and an even more unexpected connection with a silent fellow sniper offer the possibility of happiness. But when an old enemy from Mila's past joins forces with a deadly new foe lurking in the shadows, Lady Death finds herself battling her own demons, and enemy bullets, in the deadliest duel of her life.
Based on a true story, The Diamond Eye is a haunting novel of heroism born of desperation, of a woman and mother who became a soldier and who found her place in the world that changed the course of history forever.
Kate Quinn
is a New York Times bestselling author of historical fiction.  She is a native of Southern California, and she attended Boston University, where she earned bachelor's and master's degrees in classical voice. A lifelong history buff, she has written four novels in the Empress of Rome Saga and two books set in the Italian Renaissance before turning to the 20th century with The Alice Network, The Huntress, and The Rose Code. She and her husband now live in Seattle with their rescue dogs.
---
Please note any accommodation requests in the Special Needs section of the registration form.
Check out all our programs in our online newsletter, at https://www.cc-pl.org/connections.
If you have any questions, please contact Danielle at dheiert@cc-pl.org or all Cold Spring programmers at csprograms@cc-pl.org.
Age Range: 18+
Register for this event
Registrations are closed for this event.