Meet Astronaut Don Thomas: Living and Working in Space
Thursday, July 11, 2019
6:00 pm - 8:00 pm
Come to the library to meet veteran Astronaut Don Thomas! Through a virtual chat, he will share information about his time living and working in space!
Astronaut Bio: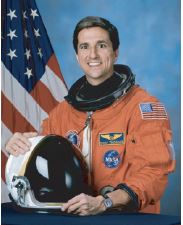 Born in Cleveland, Ohio, Thomas completed a Bachelor of Science degree in Physics from Case Western Reserve University in 1977. He went on to Cornell University, earning both a Master of Science degree and a doctorate in Materials Science and Engineering.
Thomas began his NASA career at the Johnson Space Center working as a materials engineer on the Space Shuttle program. In 1990, he was selected in NASA's 13th group of astronauts. He went on to fly on four Space Shuttle missions; STS-65 aboard Columbia in 1994, STS-70 aboard Discovery in 1995, and STS-83 and STS-94 aboard Columbia in 1997. During his four missions, he spent a total of 44 days in space and orbited the Earth 692 times.
Age Range: All Ages