How to Have Difficult Conversations About Race: Practical Tools for Necessary Change in the Workplace and Beyond a Virtual Author Talk with Kwame Christian
Saturday, November 12, 2022
12:00 pm - 1:00 pm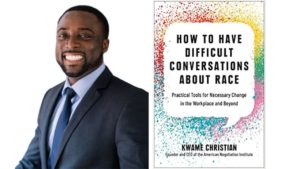 Join us for an enlightening hour with bestselling author Kwame Christian as he chats about his new book How to Have Difficult Conversations About Race: Practical Tools for Necessary Change in the Workplace and Beyond. 
How to Have Difficult Conversations About Race helps readers gain the confidence to not only talk about race, but actually make a difference when you do. Negotiation expert Kwame Christian's motto is: "The best things in life are on the other side of difficult conversations." If we want a more equitable workplace, and a more equitable world, we have to talk to each other about race. But, for so many of us, that's easier said than done. Many people avoid conversations about race because of fear: fear of discomfort, fear of damaging important relationships, fear of being misunderstood, "canceled," or ostracized. How to Have Difficult Conversations About Race equips you with the skills you need to make these crucial conversations easier and more productive. 
If you've ever struggled to turn that passion into persuasion, or been too afraid to speak up at work (or outside of it), this talk is for you. With Kwame Christian guiding you, you'll never shy away from those important conversations again–instead approaching them with courage and conviction.
Register for this author talk and check out other online author talks here: https://libraryc.org/ccpl/21246/register