Cup of Crime: "Survive the Night" by Riley Sager
Wednesday, August 9, 2023
7:00 pm - 8:00 pm
Cup of Crime is a book club that meets once per month. For adults who love reading mysteries and spooky stuff!
---
This month's book: Survive the Night by Riley Sager!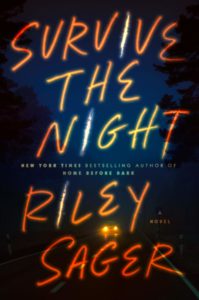 "Charlie Jordan is being driven across the country by a serial killer. Maybe.
Behind the wheel is Josh Baxter, a stranger Charlie met by the college ride share board, who also has a good reason for leaving university in the middle of term. On the road they share their stories, carefully avoiding the subject dominating the news – the Campus Killer, who's tied up and stabbed three students in the span of a year, has just struck again.
Travelling the lengthy journey between university and their final destination, Charlie begins to notice discrepancies in Josh's story.
As she begins to plan her escape from the man she is becoming certain is the killer, she starts to suspect that Josh knows exactly what she's thinking.
Meaning that she could very well end up as his next victim." – Goodreads.com
---
Please note any accommodation requests in the Special Needs section of the registration form.
Check out all our programs in our online newsletter, at https://www.cc-pl.org/connections.
If you have any questions, please contact Danielle at dheiert@cc-pl.org or all Cold Spring programmers at csprograms@cc-pl.org.
*Zoom option available for those who wish to join virtually. Please contact Danielle to set up Zoom meeting.
Age Range: 18+