Coffee & Conversation: 'The Fossil Hunter' by Tea Cooper
Wednesday, July 12, 2023
2:00 pm - 3:00 pm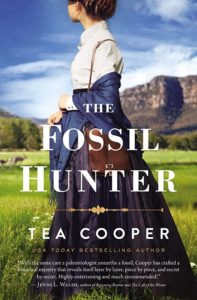 Australia, 1847. The last thing Mellie Vale remembers before the fever takes her is sprinting through the bush with a monster at her heels—but no one believes her. In a bid to curb Mellie's overactive imagination, her benefactors send her to visit Anthea Winstanley. Anthea is an amateur paleontologist who is convinced she will one day find proof that great sea dragons swam in the vast inland sea that covered her property millions of years ago.
Australia, 1919. Penelope Jane "PJ" Martindale arrives home from the battlefields of World War I intent on making peace with her father and commemorating the deaths of her two younger brothers in the trenches. Desperate for a distraction, she finds a connection between a fossil at London's Natural History Museum and her brothers' favorite camping spot. But the gorge has a sinister reputation: seventy years ago, several girls disappeared from the area. When PJ uncovers some unexpected remains, she's determined to find answers…
Weaving together these two timelines, The Fossil Keeper offers everything you love: history, mystery, suspense, romance, and startling discoveries that will keep the pages turning.
Coffee will be provided from Fort Thomas Coffee.
---
If you have any questions, please contact Natalie at ftprograms@cc-pl.org.  Please see all our program offerings in our online newsletter at https://www.cc-pl.org/connections.​
Age Range: 18+
Carrico/Fort Thomas Branch