Coffee & Conversation: 'Mexican Gothic' by Silvia Moreno-Garcia
Wednesday, October 11, 2023
2:00 pm - 3:00 pm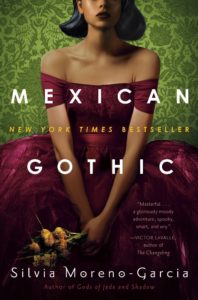 After receiving a frantic letter from her newly-wed cousin begging for someone to save her from a mysterious doom, Noemí Taboada heads to High Place, a distant house in the Mexican countryside. She's not sure what she will find—her cousin's husband, a handsome Englishman, is a stranger, and Noemí knows little about the region.
Noemí is also an unlikely rescuer: She's a glamorous debutante, and her chic gowns and perfect red lipstick are more suited for cocktail parties than amateur sleuthing. But she's also tough and smart, with an indomitable will, and she is not afraid: Not of her cousin's new husband, who is both menacing and alluring; not of his father, the ancient patriarch who seems to be fascinated by Noemí; and not even of the house itself, which begins to invade Noemí's dreams with visions of blood and doom…
Coffee will be provided from Fort Thomas Coffee.
---
If you have any questions, please contact Natalie at ftprograms@cc-pl.org.  Please see all our program offerings in our online newsletter at https://www.cc-pl.org/connections.​
Age Range: 18+
Carrico/Fort Thomas Branch