Zoom Program: Tween Book Club – 'Aru Shah and the End of Time' by Roshani Chokshi
Friday, April 9, 2021
4:00 pm - 5:00 pm
Sometimes reading is more fun when you have others to talk to. Registering for this program puts you on a list to pick up a free copy of this month's club pick, Aru Shah and the End of Time by Roshani Chokshi, from the library.
Register for this program to get your copy of the book. If you can't pick it up at Newport, tell us your location choice using the special needs section of the registration form.
Starting March 12th, pick up your book from the library.
Read and enjoy the book at your own pace.
Come chat about this month's book and other books you love in the Zoom book club on April 9th at 4:00 pm.
This book club is for ages 8-14.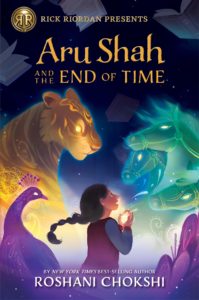 Twelve-year-old Aru Shah has a tendency to stretch the truth, sometimes to fit in at school. While classmates are enjoying family vacations to far off places, Aru spends it at home, in the Museum of Ancient Indian Art and Culture, waiting for her mom.
But when classmates show up at the museum, a mean dare goes all wrong when Aru accidentally frees the Sleeper, an ancient demon. Time around her is frozen and the only way to save her classmates and mother is to find the reincarnations of the five legendary Pandava brothers, protagonists of the Hindu epic poem, the Mahabharata, and journey through the Kingdom of Death. But how is one girl in Spider-Man pajamas supposed to do all that?
---
This is a live program that will be conducted via Zoom, a free online video conferencing platform. Registration is required. On the day of the program, we will email you with a link to join the live program. You are not required to have a Zoom account. If you would like to create a free account though, you may do so at https://zoom.us/signup.
If you have any questions, please contact Jessi Holloway at jholloway@cc-pl.org.
Age Range: 8-14
Register for this event
Registrations are closed for this event.