Tween Book Club – 'Wonder' by R. J. Palacio
Friday, February 10, 2023
4:00 pm - 5:00 pm
Sometimes reading is more fun when you have others to talk to. Registering for this program puts you on a list to pick up a free copy of this month's club pick, Wonder by R. J. Palacio, from the library.

Register for this program to get your copy of the book. If you can't pick it up at Newport, tell us your location choice using the special needs section of the registration form.
Starting January 13th, pick up your book from the library.
Read and enjoy the book at your own pace.
Come chat about this month's book and other books you love in person or online on February 10th at 4:00 pm at the Newport Branch or via Zoom.
This book club is for ages 8-14
If you prefer to join via Zoom, let us know in the notes section and a link will be sent.
---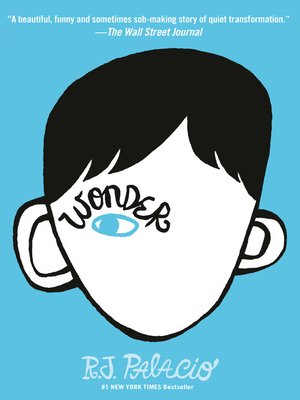 August Pullman was born with a facial difference that, up until now, has prevented him from going to a mainstream school. Starting 5th grade at Beecher Prep, he wants nothing more than to be treated as an ordinary kid—but his new classmates can't get past Auggie's extraordinary face. Beginning from Auggie's point of view and expanding to include his classmates, his sister, her boyfriend, and others, the perspectives converge to form a portrait of one community's struggle with empathy, compassion, and acceptance. In a world where bullying among young people is an epidemic, this is a refreshing new narrative full of heart and hope. R.J. Palacio has called her debut novel "a meditation on kindness" —indeed, every reader will come away with a greater appreciation for the simple courage of friendship. Auggie is a hero to root for, a diamond in the rough who proves that you can't blend in when you were born to stand out.
---
Please note any accommodation requests in the Special Needs section of the registration form.
If you have any questions, please contact Julia Manning at jmanning@cc-pl.org.
Meeting Room: Newport - Kinsella Community Room Main Level
Age Range: 8-14
Snacks Provided: Yes
Register for this event
Registrations are closed for this event.