Tween Book Club: 'Twins' by Varian Johnson
Friday, March 10, 2023
4:00 pm - 5:00 pm
Sometimes reading is more fun when you have others to talk to. Registering for this program puts you on a list to pick up a free copy of this month's club pick, Twins by Varian Johnson, from the library.

Register for this program to get your copy of the book. If you can't pick it up at Newport, tell us your location choice using the special needs section of the registration form.
Starting February 10th, pick up your book from the library.
Read and enjoy the book at your own pace.
Come chat about this month's book and other books you love in person or online on March 10th at 4:00 pm at the Newport Branch or via Zoom.
This book club is for ages 8-14
If you prefer to join via Zoom, let us know in the notes section and a link will be sent.
---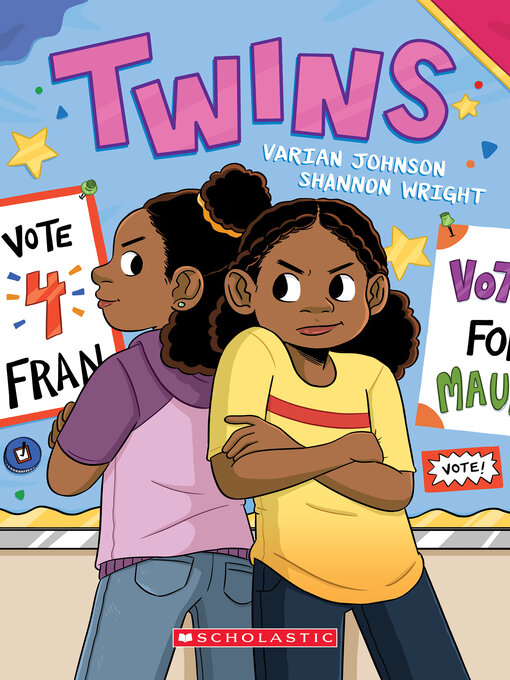 Maureen and Francine Carter are twins and best friends. They participate in the same clubs, enjoy the same foods, and are partners on all their school projects. But just before the girls start sixth grade, Francine becomes Fran — a girl who wants to join the chorus, run for class president, and dress in fashionable outfits that set her apart from Maureen. A girl who seems happy to share only two classes with her sister!Maureen and Francine are growing apart and there's nothing Maureen can do to stop it. Are sisters really forever? Or will middle school change things for good?
---
Please note any accommodation requests in the Special Needs section of the registration form.
If you have any questions, please contact Julia Manning at jmanning@cc-pl.org.
Meeting Room: Newport - Kinsella Community Room Main Level
Age Range: 8-14
Snacks Provided: Yes
Register for this event
Registrations are closed for this event.