Real Men Read: 'Justice' by Dominick Dunne
Thursday, July 27, 2023
7:00 pm - 9:00 pm
About the Book
---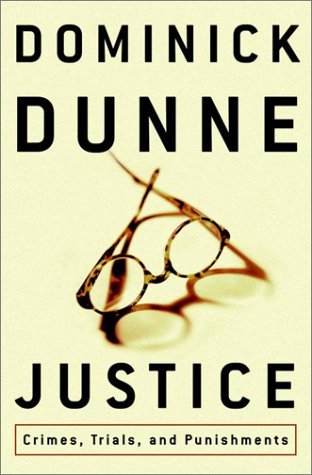 For more than two decades, Vanity Fair has published Dominick Dunne's brilliant, revelatory chronicles of the most famous crimes, trials, and punishments of our time. The pursuit of justice has become his passion — a passion that began during the trial of the man who murdered Dunne's daughter and who was sentenced to six and a half years and released in less than three. Dunne's account of that trial and its shocking result became the first of his many classic essays on justice.
Dominick Dunne's essays do much more than simply describe; his investigations have shed new light on those crimes and their perpetrators — and demonstrated how it is possible for some to skirt, even flout, the law. His persistence and personal involvement in the matter of Martha Moxley's murder was an important catalyst in bringing a dormant case back to life.
Here in one volume are Dominick Dunne's mesmerizing tales of justice denied and justice affirmed. Whether writing of Vicki Morgan's hideous death; Claus von Bülow's romp through two trials; the media frenzy of Los Angeles in the age of O.J. Simpson; the death by fire of multibillionaire banker Edmund Safra in Monaco; or the ominous silence surrounding the death of Martha Moxley in Greenwich, Connecticut, and the indictment — decades later — of Michael Skakel, Dominick Dunne tells it honestly and tells it from his unique perspective. His search for the truth is relentless. His courage and his storytelling skills shine from every page.
About the Author
---
Dominick Dunne (1925-2009) was the author of five bestselling novels, two collections of essays, and "The Way We Lived Then," a memoir with photographs. His final novel, "Too Much Money," will be published in December 2009. He was a Special Correspondent for "Vanity Fair" and lived in New York City and Hadlyme, Connecticut.
About the event
---
Real Men Read meets on the fourth Thursday of every month at 7:00 pm in the Cold Spring branch meeting room. We tend to read a variety of fiction ranging from classics to modern sci-fi, and non-fiction including history, biography, and popular science.
Check out ALL our programs in our online newsletter, https://www.cc-pl.org/connections
If you wish to attend via Zoom, or have any other questions, please contact Dave Anderson at danderson@cc-pl.org