Homeschoolers' Book Club: The Reason for Dragons by Chris Northrup
Tuesday, November 13, 2018
10:00 am - 11:00 am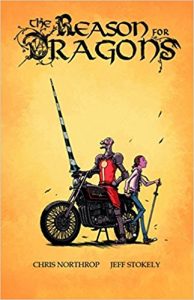 Join for our day-time, Homeschoolers' Book Club, ages 8 – 12. This month we will be reading The Reason for Dragons by Chris Northrup.
"Wendell is a high school outcast who lives a lonely, suburban existence, losing himself in books in order to avoid his distant, motorcycle-riding stepfather, Ted. When the school bullies convince Wendell to venture into the forest around their neighborhood and explore the long-abandoned Renaissance Faire grounds they all believe to be haunted, Wendell is surprised to find a man living in the barn — and even more surprised by the man himself."
If you would like a copy of this book or more information about our club, talk to Rex at the Newport Library!
Meeting Room: Newport - Kentucky Room Main Level
Age Range: 8 - 12
Snacks Provided: Yes