Dungeons and Dragons
Friday, March 4, 2022
5:00 pm - 8:00 pm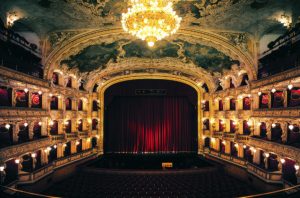 'As you and your group of adventurers enter the carriage one by one, the smell is the first thing you notice. The muddy and foggy streets become a memory, as roses overtake your nostrils. The young beautiful man, dressed quite beautifully, looks weirdly simplistic with his black and white attire, in this carriage full of velvet pillows with golden inlays. He smiles, then begins speaking in a soft voice.
"Being adventurers, I assume you've heard your fair share of news coming from Julrin. The town is not far off from here, about one or two hours' travel. In any case… Recently, there have been…" He hesitates, choosing his words with precision. "Disappearances. Young ladies, mostly, who either have up and left the town or, gods beware, worse. These recent events have proved to disturb my master. And he's asked for someone to take care of the job. I presume you are just the bunch for this."'
Join DM Clara at the Cold Spring Branch to figure out the mysteries of "A Grand Performance"!  This is a one shot adventure for up to 6 characters levels 5 using the Players Handbook and Tasha's Cauldron of Everything, so register now as spots are limited!  Please note this program is for people ages 18+ only.
Please note any accommodation requests in the Special Needs section of the registration form. If you have any accommodation requests or questions please contact Clara at cgerner@cc-pl.org.
*If you have an already established group and are looking for a space to play on this Friday night, please contact Clara and we can make room.  Contact her now as space is limited!
An official digital toolset for Fifth Edition (5e) Dungeons & Dragons (D&D).  Visit here and create your free account for an easy to understand guide on creating characters for 5th Edition Dungeons and Dragons.
Questions about DnDBeyond?  Here is a great tutorial video by
WASD20
on how to use it!
Age Range: 18+
Register for this event
Registrations are closed for this event.