Cup of Crime: 'In Cold Blood' by Truman Capote
Wednesday, March 8, 2023
7:00 pm - 8:00 pm
Cup of Crime is a book club that meets once per month. For adults who love reading mysteries and spooky stuff!
---
This month's book: In Cold Blood by Truman Capote!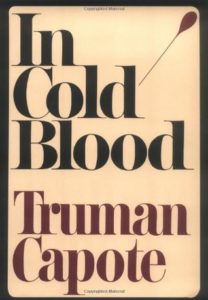 "Selected by the Modern Library as one of the 100 best nonfiction books of all time.
On November 15, 1959, in the small town of Holcomb, Kansas, four members of the Clutter family were savagely murdered by blasts from a shotgun held a few inches from their faces. There was no apparent motive for the crime, and there were almost no clues.
Five years, four months and twenty-nine days later, on April 14, 1965, Richard Eugene Hickock, aged thirty-three, and Perry Edward Smith, aged thirty-six, were hanged for the crime on a gallows in a warehouse at the Kansas State Penitentiary in Lansing, Kansas.
In Cold Blood is the story of the lives and deaths of these six people. It has already been hailed as a masterpiece." – Goodreads.com
---
Please note any accommodation requests in the Special Needs section of the registration form.
Check out all our programs in our online newsletter, at https://www.cc-pl.org/connections.
If you have any questions, please contact Danielle at dheiert@cc-pl.org or all Cold Spring programmers at csprograms@cc-pl.org.
*Zoom option available for those who wish to join virtually.
Age Range: 18+
Register for this event
Registrations are closed for this event.