Zoom Program: City BBQ Food for Thought Series: The Ancient Olympics
Tuesday, February 16, 2021
6:30 pm - 8:30 pm
The City Barbeque Food for Thought Series is returning for the eighth year, bringing great informative and fantastic talks to our Cold Spring Branch.  We will continue the series via Zoom. Those that attend will have a chance at winning a City Barbeque Gift Card.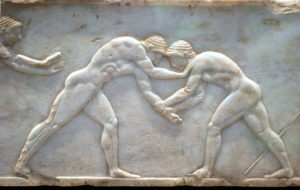 The Ancient Olympics with Professor Quinn
Prof. Quinn will share the history of the Ancient Greek Olympics as known through archaeological and literary evidence. She also will debunk some myths about the ancient games while looking ahead to the Tokyo 2021 Olympics and the legacy of ancient sport in the modern world.
Prof. Quinn found her academic passion in the field of classics, an interdisciplinary subject that involves the study of the ancient Mediterranean basin through art and archaeology, ancient history, ancient literature and language, and more. This interdisciplinarity has allowed her multiple opportunities to interact with students around NKU by partnering with departments across the university, including the Department of World Languages and Literatures, the Department of English, the Honors College, and the College of Informatics. Prof. Quinn's research centers on the publication of previously overlooked Late Roman and Byzantine settlements at archaeological sites in the eastern Mediterranean, and her dissertation (in progress at the University of Cincinnati) focuses on the interactions of Byzantines, Crusaders, and Ottoman Turks at the site of ancient Troy in Turkey. Prof. Quinn teaches courses in ancient history and Latin language, and she frequently employs Barnard College's Reacting to the Past curriculum in her courses. She also shares her passion for travel and history with undergraduate students on study abroad programs through the Department of History and Geography (Egypt) and the Kentucky Institute for International Studies (Greece, Italy, Turkey).
This is a live program that will be conducted via Zoom, a free online video conferencing platform. Registration is required. On the day of the program, we will email you with the link to join the live program. You are not required to have a Zoom account . If you would like to create a free account though, you may do so at https://zoom.us/signup.
If you have any questions, contact Clara at cgerner@cc-pl.org
City Barbeque is serious about supporting our community teammates and neighbors; giving back to local charities and non-profits; and celebrating life's happy moments in a fun, family-friendly environment.  The Campbell County Public Library is thankful for our partnership these past eight years!
Campbell Media is a service of the Campbell County Cable Board. The Cable Board was created by an Interlocal Agreement among the Campbell County Fiscal Court and 12 local cities within the County. The member cities are: Highland Heights, Alexandria, Bellevue, Southgate, Wilder, Silver Grove, Melbourne, Crestview, Woodlawn, California, Mentor and Fiscal Court serving the unincorporated county. The Cable Board administers the cable television franchise agreement with Spectrum and Cincinnati Bell Extended Territories.
Age Range: 18+
Register for this event
Registrations are closed for this event.