Camp Half-Blood Training Day
Friday, December 8, 2023
5:00 pm - 6:30 pm
Join us at the Cold Spring branch as we throw a Percy Jackson party fit for the gods!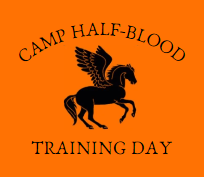 Help us celebrate everyone's favorite demigods as we get ready for the new show set to premiere on Disney+ on Dec. 20! Fans of Rick Riordan's award-winning series can spend a day in the life of a Greek demigod at Camp Half-Blood with themed crafts, sword fighting lessons, Blooket trivia and prizes.
Some light blue snacks will be provided. Please contact Danielle at dheiert@cc-pl.org with any dietary restrictions or allergies.
This program is open to anyone ages 8-19.
---
Please note any accommodation requests in the Special Needs section of the registration form.
Check out all our programs in our online newsletter, at https://www.cc-pl.org/connections.
If you have any questions, please contact Danielle at dheiert@cc-pl.org or all Cold Spring programmers at csprograms@cc-pl.org.
Age Range: 8-19
Snacks Provided: Yes
Register for this event
Registration opens Monday, October 9th, 2023