Our Story
How It Began
In 2015, a Family Resource Center Coordinator approached JC Morgan, our director, about accepting coat donations to distribute to kids who are served by her program at a local elementary school. In Kentucky, Family Resource Centers in public schools work to minimize obstacles to keep "at risk" kids learning and in the classroom. We were reluctant to accept donated coats as they are bulky, hard to store and could bring in bugs.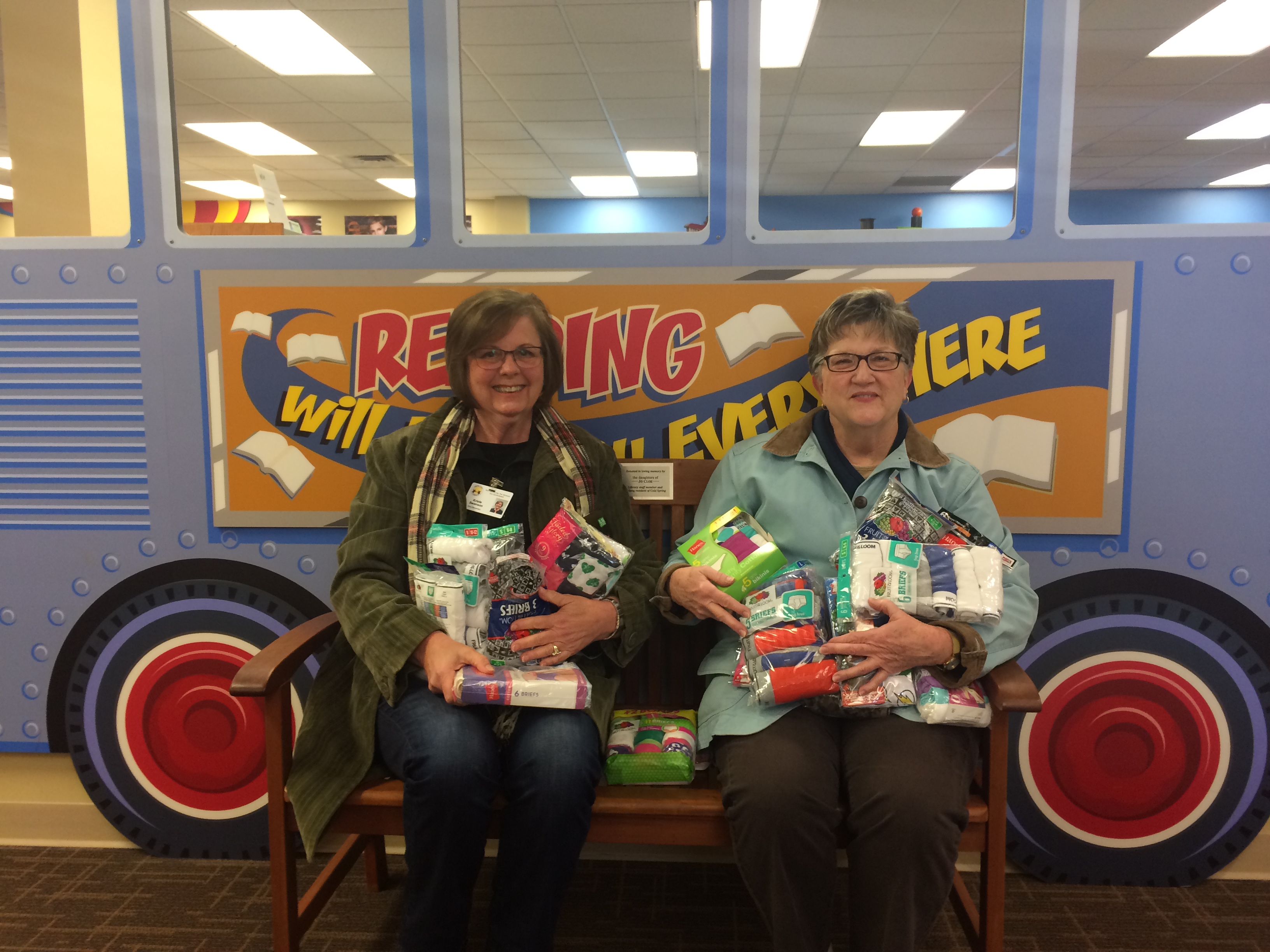 Our director remembered from an early literacy conference that the lack of clean underwear was mentioned as a barrier to learning, so he suggested we collect underwear instead of coats. The Family Resource Center Coordinator was thrilled. We subsequently learned from other Family Resource Centers at multiple elementary schools that each center distributes 30-100 pairs of underwear each month. With reduced budgets and increased number of children served, Family Resource Center Coordinators often dip into personal funds to provide needed items, which were often depleted months before the end of the school year.
Having clean underwear is a largely unknown obstacle to learning for many children. We saw this campaign as a way to educate the public about a real need and an opportunity to help local children.
First Year
Our first year (2015) was very successful. We set a goal of 3,000 pairs of underwear and collected 5,300. That success led to the idea of asking other libraries in Kentucky if they would like to conduct the campaign as well. The next year, there were 50 participating libraries in Kentucky.
Donations
We only accept new underwear in its original packaging. We donate anything that's not in new packages to organizations that accept clothing donations. For the first four years of Drop Your Drawers, we accepted only underwear that would fit elementary-age children (sizes 4-16). We surpassed our goal each year. We were so successful, in fact, that in 2018 we overwhelmed the Family Resource Centers' capacity to accept and use underwear.
With that in mind, we expanded our campaign in 2019 to include donations of new packages of socks and underwear in all sizes to help diversify the collection and meet a larger need. Our reasoning is that accidents involving underwear also can impact socks, and if the child is suffering, it's possible other family members are also suffering.
Timing the Campaign
When we first met with the Family Resource Center Coordinators to discuss implementing Drop Your Drawers, the coordinators said they bought underwear to help their struggling students at the beginning of the school year. By December, those supplies were running low. For that reason, we conduct our campaign in November and December each year. This is also a slower time of year for our staff (as opposed to Summer Reading) and a natural time of year for when people are wanting to give back and are already out shopping.
 Seeking Donations
We have more than 20 organizations that donate to the campaign each year. Organizations have the ability to bring in hundreds of pairs from their members, which significantly changes the tally board with one donation. If there's a leadership group in your area (such as Leadership Northern Kentucky), you could ask for donations from them as part of a class project. If your schools have Civic Clubs, they might take on the campaign as a project. We've even had a local Montessori school collect donations for us. Without the support of big organizational drives, our campaign would gather about 50% less underwear each year.


Publicizing the Campaign
In addition to sending out press releases, we pitch the story directly to reporters (print, radio and television). Because of the unique nature of the campaign and the catchy name, we've been able to get television interviews during local morning news segments.
We've also had a lot of luck in getting city governments, school boards and county government to donate for a photo opportunity. It's a double win as their meetings are typically recorded and made available through local community television, websites and other sources. Plus, reporters often attend the meetings.
Distributing Donations
We have distributed donated items in several ways. We have found the best way is to ask the receiving schools to help divide the underwear. The benefit is that the schools see the underwear is divided equally and are able to immediately take their share back to their schools.
One year, we made the sorting and distribution into a PR opportunity. When our director and his children divided up the underwear, we used security camera footage to create a video of the sorting process. You can view the video below. We also delivered the underwear to each school, making an appointment beforehand, and took pictures with each principal.
Benefits
Drop Your Drawers created inroads for us to visit classrooms, partner in grant seeking, assist with after-school activities and distribute library materials. Our relationships with the schools and cities in our county have blossomed as a result of the campaign. Drop Your Drawers is helping to change people's attitudes about the importance of libraries and the work we do in our communities.
Our Thanks
We're very grateful to Dav Pilkey, author of the Captain Underpants books, for his generous permission to use the Captain Underpants image with Drop Your Drawers. We are also thankful for our great community partners, participating libraries and to the people in our community for their overwhelming support.