Drop Your Drawers
Drop Your Drawers returns this November through December!
Drop Your Drawers
Goal: 7,000
The initiative aims to meet a crucial need for public schools in Campbell County: keeping Family Resource Centers' emergency supplies of socks and underwear stocked. Schools hand out 100 or more pairs monthly to children who need them due to accidents at school or circumstances at home.
Donations of socks and underwear can be any size and must be in their original packaging. Bras and t-shirts are also accepted.
Because parents are often unable to bring fresh underwear and socks to their children during school hours, children can miss crucial learning time in the classroom. Keeping centers' supplies stocked also allows them to redirect funding to provide other valuable resources.
Our community has gone above and beyond for Drop Your Drawers since its launch in 2015, with 2022 marking its seventh year. Having started at CCPL, the campaign has made its way to other library systems across the country.
To learn more about the need for new underwear and socks, watch our video with Campbell County Family Resource Center Coordinators below.
FAQ
For answers to frequently asked questions, please view our Drop Your Drawers FAQ Sheet.
Past Campaigns
Thanks to your generosity, we collected 9,106 pairs of socks and underwear during our 2022 Drop Your Drawers campaign. Truly amazing!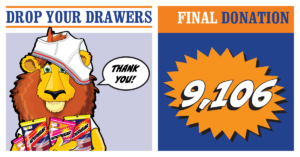 Thank you to the many individuals and community groups that donated to Drop Your Drawers.
We have been able to donate thousands of pairs of underwear through Drop Your Drawers.
2022

Donated 9,106 pairs of socks and underwear

2021

Donated 15,169 pairs of socks and underwear

2019

Donated 10,612 pairs of socks and underwear

2018

Donated 10,765 pairs of underwear

2017

Donated 7,784 pairs of underwear

2016

Donated 7,125 pairs of underwear

2015

Donated 5,300 pairs of underwear
Drop Your Drawers Resources
If you are a library interested in starting Drop Your Drawers in your community, please visit the webpage below for free promotional materials and information on how to start a campaign.