Take & Make: Unicorn Wreath
Friday, July 10, 2020
2:00 pm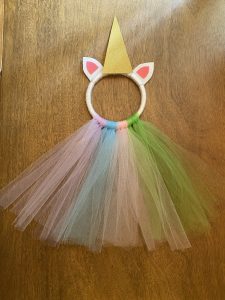 Make a magical decoration for your door. Turn tulle and felt into an enchanted unicorn using an embroidery hoop.
---
Registration is required for this virtual program. The program includes Take & Make bags that will provide everything you need to make the craft. Take & Make bags will be available for pickup starting a week before the craft program for those who have registered.
The tutorial for this program will be available starting at 2 pm on Friday, July 10th by visiting https://www.cc-pl.org/articles.
If you have any questions, please contact Morgan at mlockard@cc-pl.org.
---
Supplies:
Embroidery Hoop (5″ in the kit)
Felt (white and pink in the kit)
Scrapbook Glitter Paper (gold in the kit)
Yarn (white in the kit)
Tulle (blue, green, pink and purple in the kit)
Wire (optional)
Hot Glue (optional)
Scissors
Age Range: Grades 1-5
Carrico/Fort Thomas Branch