Online Program: DIY Teen Watercolor Prints
Wednesday, April 22, 2020
3:00 pm - 8:00 pm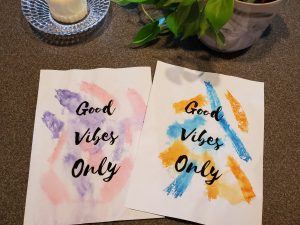 This is a fun, simple craft that uses items that you may have laying around your home! All you need to make a beautiful faux watercolor print are the following supplies.
Supplies:
Plain white paper with printed quote or you may draw on the paper if you would like to get more creative!
Crayola markers in 2-3 different colors
Gallon Ziploc bag
Spray bottle with water
Paper towels
The tutorial for this program will be accessible starting Wednesday, April 22 at 3 pm by visiting https://www.cc-pl.org/articles or www.youtube.com/user/campbellcolibrary.
Age Range: 11-19
Carrico/Fort Thomas Branch