Fly-Fishing
Saturday, August 25, 2018
10:30 am - 4:30 pm
Did you ever think you might like to try fly-fishing? Here's your chance to get a down-to-earth understanding of just what this sport is all about. IT'S FREE and you don't need to bring anything.
You'll learn:
What fly-fishing IS and what it ISN'T
What tackle and gear you really need
What is nice to have
What you shouldn't waste your money on
How to assemble fly fishing tackle
How & Where to use it … locally and abroad
Basic fly casting and how this differs from spin casting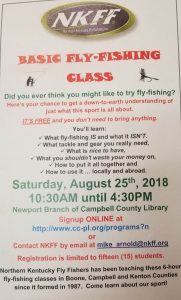 Meeting Room: Newport - Presidents Room Lower Level
Age Range: adult
Register for this event
Registrations are closed for this event.