Dungeons and Dragons
Friday, July 1, 2022
5:00 pm - 8:00 pm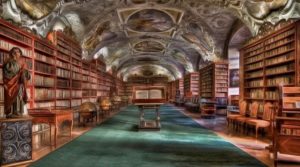 'Years ago, an old mage's academy just outside of town vanished without a trace.  Nowadays, local legend says if one travels off the roads at night, you can still find the old haunted academy and its library of forgotten lore.
Strangely though, the stories claim it never stays in one place for long, and several villagers have gone missing looking for the old school.  Whether to help or to explore, your team sets out for the rumor shrouded school.  Are you prepared to face untold horrors and face all manners of foes?'
Join DM Clara at the Cold Spring Branch to figure out the mysteries of "Monsieur Emmic's Academy For the Gifted"!  This is a one shot adventure for up to 6 characters levels 2 using the Players Handbook and Tasha's Cauldron of Everything, so register now as spots are limited!  Please note this program is for people ages 18+ only.
Please note any accommodation requests in the Special Needs section of the registration form. If you have any accommodation requests or questions please contact Clara at cgerner@cc-pl.org.
*If you have an already established group and are looking for a space to play on this Friday night, please contact Clara and we can make room.  Contact her now as space is limited!
An official digital toolset for Fifth Edition (5e) Dungeons & Dragons (D&D).  Visit here and create your free account for an easy to understand guide on creating characters for 5th Edition Dungeons and Dragons.
Questions about DnDBeyond?  Here is a great tutorial video by
WASD20
on how to use it!
Age Range: 18+
Register for this event
Registrations are closed for this event.