Signature Series
The Signature Series provides enriching cultural and educational experiences for the community that entertain, inform and enlighten.
Free tickets are required. Registration opens two months before the event date.
Tickets will be mailed two weeks prior to the event. Tickets requested after that time will be available at the desk on the evening of the performance. The Carrico/Fort Thomas branch will close at 5 pm before each program to set up for the events.
Thank you to the Friends of the Campbell County Public Library for making the Signature Series possible.
The Umi Project
Friday, March 25
7 – 8:30 pm
Carrico/Fort Thomas Branch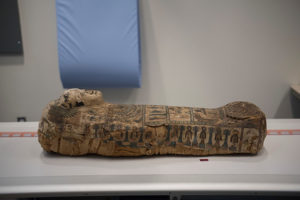 Umi, a mummified Egyptian boy aged 3-5, resides at the Cincinnati Museum Center.
In partnership with CMC, Northern Kentucky University's Allied Health Department used X-Rays and a CT scanner to create a 3-D image of Umi, which revealed new information about the boy—right here in Campbell County!
What did they discover? Learn more about their findings from members of the department during this presentation.
The event will include a short reception following the discussion.
---
Karen Abbott
Friday, April 22
7 – 8 pm
Carrico/Fort Thomas Branch
New York Times bestselling author Karen Abbott will discuss her book The Ghosts of Eden Park, which is set across the river in Cincinnati in the early days of Prohibition. It follows German immigrant George Remus, aka "King of the Bootleggers," through tales of Gatsby-esque parties, FBI investigations, affairs and murder.
Abbott's other books include Sin in the Second City; American Rose; and Liar, Temptress, Soldier, Spy. She has written for prominent publications such as, The New Yorker, The Wall Street Journal, The Washington Post and Smithsonian Magazine, among others.
The Ghosts of Eden Park was an instant New York Times bestseller and an Amazon "Best Book of 2019."
A book signing and a short reception will follow Abbott's lecture. Fort Thomas' Blue Marble Books will sell copies of the novel.
More News