Real Men Read – "The Death of Mrs. Westaway," by Ruth Ware
Thursday, March 25, 2021
7:00 pm - 9:00 pm
About the Book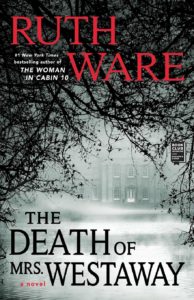 From the #1 New York Times bestselling author of In a Dark, Dark Wood, The Woman in Cabin 10, and The Lying Game.
On a day that begins like any other, Hal receives a mysterious letter bequeathing her a substantial inheritance. She realizes very quickly that the letter was sent to the wrong person—but also that the cold-reading skills she's honed as a tarot card reader might help her claim the money.
Soon, Hal finds herself at the funeral of the deceased…where it dawns on her that there is something very, very wrong about this strange situation and the inheritance at the center of it.
Full of spellbinding menace and told in Ruth Ware's signature suspenseful style, this is an unputdownable thriller from the Agatha Christie of our time.
About the author
Ruth Ware worked as a waitress, a bookseller, a teacher of English as a foreign language, and a press officer before settling down as a full-time writer. She now lives with her family in Sussex, on the south coast of England.
About the event
---
Everyone, age 6 or older, who attends library programs are required to wear masks.
Please note any accommodation requests in the Special Needs section of the registration form.
All those not arriving together must maintain a 6-foot social distance.
---
If Campbell County is RED on the Kentucky Department of Public Health's COVID-19 Dashboard, all in-person programs will be canceled and those registered will be offered the online option.
---
This program will take place outside our current hours of operation. For those attending in-person, a staff member will allow you entrance to the building.
If you have any questions, please contact Dave Anderson at danderson@cc-pl.org
Register for this event
Registrations are closed for this event.