You've Been Booked! – "It's Kind of a Funny Story" by Ned Vizzini
Monday, September 19, 2022
7:00 pm - 8:45 pm
"You've Been Booked!" is a book club that meets once per month. Open to both adults and teens who are interested in reading young adult literature!
---
Join us for this very special meeting of You've Been Booked! as we meet on Talk Like A Pirate Day! Pirate costumes ARRRR welcome.
This month's book: It's Kind of a Funny Story by Ned Vizzini!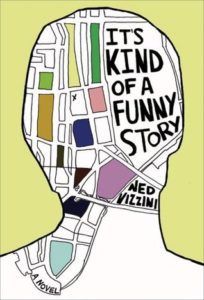 "Ambitious New York City teenager Craig Gilner is determined to succeed at life – which means getting into the right high school to get into the right job. But once Craig aces his way into Manhattan's Executive Pre-Professional High School, the pressure becomes unbearable. He stops eating and sleeping until, one night, he nearly kills himself.
Craig's suicidal episode gets him checked into a mental hospital, where his new neighbors include a transsexual sex addict, a girl who has scarred her own face with scissors, and the self-elected President Armelio. There, Craig is finally able to confront the sources of his anxiety.
Ned Vizzini, who himself spent time in a psychiatric hospital, has created a remarkably moving tale about the sometimes unexpected road to happiness." – Goodreads.com
---
Please note any accommodation requests in the Special Needs section of the registration form.
If you have any questions, please contact Danielle at dheiert@cc-pl.org.
*Zoom option available for those who wish to join virtually.
Age Range: 13+
Register for this event
Registrations are closed for this event.