Tween Book Club – 'Sal and Gabi Break the Universe' by Carlos Hernandez
Friday, October 8, 2021
4:00 pm - 5:00 pm
Sometimes reading is more fun when you have others to talk to. Registering for this program puts you on a list to pick up a free copy of this month's club pick, Sal and Gabi Break the Universe, by Carlos Hernandez, from the library.
Register for this program to get your copy of the book. If you can't pick it up at Newport, tell us your location choice using the special needs section of the registration form.
Starting September 10th, pick up your book from the library.
Read and enjoy the book at your own pace.
Come chat about this month's book and other books you love in person on October 8th at 4:00 pm at the Newport Branch.
This book club is for ages 8-14.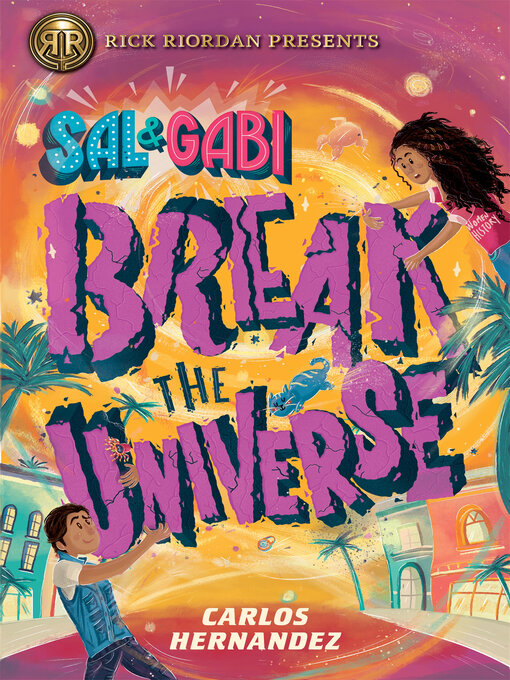 How did a raw chicken get inside Yasmany's locker? When Sal Vidon meets Gabi Real for the first time, it isn't under the best of circumstances. Sal is in the principal's office for the third time in three days, and it's still the first week of school. Gabi, student council president and editor of the school paper, is there to support her friend Yasmany, who just picked a fight with Sal. She is determined to prove that somehow, Sal planted a raw chicken in Yasmany's locker, even though nobody saw him do it and the bloody poultry has since mysteriously disappeared. Sal prides himself on being an excellent magician, but for this sleight of hand, he relied on a talent no one would guess . . . except maybe Gabi, whose sharp eyes never miss a trick. When Gabi learns that he's capable of conjuring things much bigger than a chicken—including his dead mother—and she takes it all in stride, Sal knows that she is someone he can work with. There's only one slight problem: their manipulation of time and space could put the entire universe at risk. A sassy entropy sweeper, a documentary about wedgies, a principal who wears a Venetian bauta mask, and heaping platefuls of Cuban food are just some of the delights that await in his mind-blowing novel gift-wrapped in love and laughter.
---
Due to registration limits, we encourage adults to remain in the library but to allow their tween to attend the program alone -only if child and adult are comfortable. If an adult needs to accompany a teen, the adult must sit with the teen so as to not contribute to room capacity.
If Campbell County is RED on the Kentucky Department for Public Health's COVID-19 Dashboard, everyone, age 2 or older, who attends library programs are required to wear masks.
Please note any accommodation requests in the Special Needs section of the registration form.
If you have any questions, please contact Julia Manning at jmanning@cc-pl.org.
Meeting Room: Newport - Kinsella Community Room Main Level
Age Range: 8-14
Register for this event
Registrations are closed for this event.