Tween Book Club – 'Front Desk' by Kelly Yang
Friday, May 13, 2022
4:00 pm - 5:00 pm
Sometimes reading is more fun when you have others to talk to. Registering for this program puts you on a list to pick up a free copy of this month's club pick, Front Desk, from the library.
Register for this program to get your copy of the book. If you can't pick it up at Newport, tell us your location choice using the special needs section of the registration form.
Starting April 8th, pick up your book from the library.
Read and enjoy the book at your own pace.
Come chat about this month's book and other books you love in person on May 13th at 4:00 pm at the Newport Branch.
This book club is for ages 8-14
---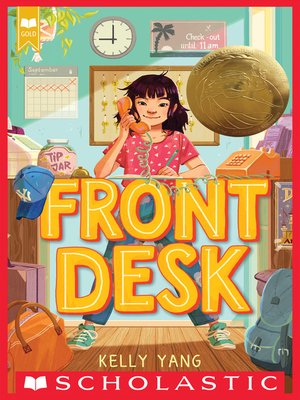 Tang has a lot of secrets.Number 1: She lives in a motel, not a big house. Every day, while her immigrant parents clean the rooms, ten-year-old Mia manages the front desk of the Calivista Motel and tends to its guests.Number 2: Her parents hide immigrants. And if the mean motel owner, Mr. Yao, finds out they've been letting them stay in the empty rooms for free, the Tangs will be doomed.Number 3: She wants to be a writer. But how can she when her mom thinks she should stick to math because English is not her first language?It will take all of Mia's courage, kindness, and hard work to get through this year. Will she be able to hold on to her job, help the immigrants and guests, escape Mr. Yao, and go for her dreams?
---
Please note any accommodation requests in the Special Needs section of the registration form.
If you have any questions, please contact Julia Manning at jmanning@cc-pl.org.
Meeting Room: Newport - Kinsella Community Room Main Level
Age Range: 8-14
Register for this event
Registrations are closed for this event.