Tween Book Club: 'Cirque du Freak' by Darren Shan
Friday, November 10, 2023
4:00 pm - 5:00 pm
Sometimes reading is more fun when you have others to talk to. Registering for this program puts you on a list to pick up a free copy of this month's club pick, Cirque du Freak by Darren Shan.

Register for this program to get your copy of the book. If you can't pick it up at Newport, tell us your location choice using the special needs section of the registration form.
Starting October 13th, pick up your book from the library.
Read and enjoy the book at your own pace.
Come chat about this month's book and other books you love in person or online on November 10th at 4:00 pm at the Newport Branch or via Zoom.
This book club is for ages 8-14
If you prefer to join via Zoom, let us know in the notes section and a link will be sent.
---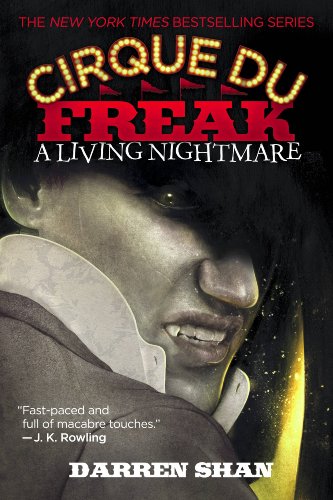 A young boy named Darren Shan and his best friend, Steve, get tickets to the Cirque Du Freak, a wonderfully gothic freak show featuring weird, frightening half human/half animals who interact terrifyingly with the audience. In the midst of the excitement, true terror raises its head when Steve recognizes that one of the performers– Mr. Crepsley– is a vampire!
Steve remains after the show finishes to confront the vampire– but his motives are surprising! In the shadows of a crumbling theater, a horrified Darren eavesdrops on his friend and the vampire, and is witness to a monstrous, disturbing plea. As if by destiny, Darren is pulled to Mr. Crepsley and what follows is his horrifying descent into the dark and bloody world of vampires.

---
Please note any accommodation requests in the Special Needs section of the registration form.
We encourage adults to remain in the library but to allow their tween/teen to attend the program alone – only if both are comfortable. If an adult must be present, they must sit with the tween/teen.
If you have any questions, please contact Jessi at jholloway@cc-pl.org.
Meeting Room: Newport - Kinsella Community Room Main Level
Age Range: 8-14
Snacks Provided: Yes
Register for this event