Retro Game Night
Monday, July 25, 2022
5:00 pm - 8:00 pm
It's a blast from the past at the Cold Spring branch! Join us for a game night featuring cool games and consoles from decades past.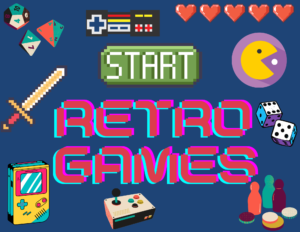 We will have fan-favorite retro games, including Atari, SEGA, Classic Nintendo, older Play Station and Xbox, board games based on retro games, and more!
Bring a favorite game to share or enjoy popular retro games from the library collection! Games rated T for Teen or lower, please!
This event is for ages 11-19.
---
Please note any accommodation requests in the Special Needs section of the registration form.
If you have any questions, please contact Danielle at dheiert@cc-pl.org.
Age Range: 11-19
Register for this event
Registrations are closed for this event.