Online Program: Children's Theatre of Cincinnati Show
Friday, March 12, 2021
All Day
We have partnered with the Children's Theatre of Cincinnati to bring their fantastic show "Harriet Tubman: Straight Up Outta' the Underground" directly to your home for a whole weekend. This format is "Pick a Path," meaning viewers get to choose what happens next! Register to receive the link to the show and watch it as early as 8 a.m. on Friday, March 12 through 11 p.m. on Sunday, March 14, 2021.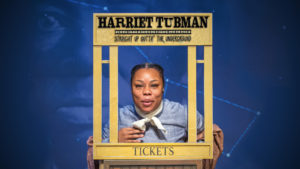 About the Show
Bring the past to the present and change the future with this one-woman interactive storytelling experience. Uncover the truth about America's 200-year-old struggle with slavery when you play a part in this historic retelling. On this journey, you'll follow Harriet Tubman, the most recognized conductor of the Underground Railroad. Nicknamed "Moses," Harriet Tubman lived up to her name by gaining her own freedom, as well as traveling back and forth from North to South over 19 times and freeing over 300 slaves!
Age Range: All Ages
Carrico/Fort Thomas Branch
Register for this event
Registrations are closed for this event.