Exploring Local History: The Poetry of Place with Alexandra McIntosh
Thursday, April 21, 2022
6:30 pm - 7:30 pm
We all have our place in this world. Perhaps that provides the comforts, the rhythms, or beauty we need in life. Sometimes, it's just a matter of looking around, taking it in, and letting the wonder of that place move you. Join writer and native Kentuckian Alexandra McIntosh as she shares how the hills and forests of NKY inspire her. With readings by the author and a conversation about her writing process, this Exploring Local History will have a must-see creative connection.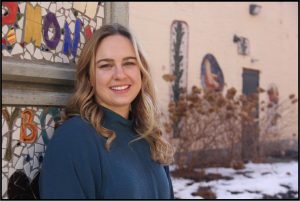 Alexandra McIntosh lives and writes in Kentucky, her favorite place in the world. She received her B.A. from Asbury University, her M.A. in English from Northern Kentucky University, and her MFA in Poetry from Miami University. Her poetry and creative nonfiction can be found in publications including The Raw Art Review, Broad River Review, and Allegory Ridge. Her debut book of poetry, "Bowlfuls of Blue," was published by Assure Press in 2021. You can find links to her publications (and pictures of her dog) at AlexandraMcIntosh.com
---
Please note any accommodation requests in the Special Needs section of the registration form.
If you have any questions, please contact Morgan at mlockard@cc-pl.org.
Age Range: 18 and up
Carrico/Fort Thomas Branch
Register for this event
Registrations are closed for this event.