Dungeons and Dragons
Friday, January 7, 2022
5:00 pm - 8:00 pm
A remote monastery is rumored to h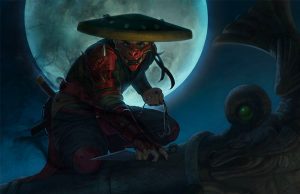 old some of the most powerful arcane relics in the land. As seasoned adventurers, the players have likely heard tales of such a place: a wasteland oasis where all manner of monks live and practice their art in harmony.
Though not many alive today believe the rumors, the Nameless Monastery is real! As the only standing structure in a vast wasteland, simply reaching the fabled prefecture of the monks is a task reserved only for the bravest — or the most foolhardy
Join DM Clara at the Cold Spring Branch to figure out the mysteries of "The Puzzling Prefecture of Pippenpaddleopsicpolus"!  This is a one shot adventure for up to 6 characters levels 7 using the Players Handbook and Tasha's Cauldron of Everything, so register now as spots are limited!  Please note this program is for people ages 18+ only.
All state and federal COVID-19 mandates will be followed.  If Campbell County is ORANGE or above on the Kentucky Department for Public Health's COVID-19 Dashboard, everyone, age 6 or older, who attends library programs are required to wear masks. Please note any accommodation requests in the Special Needs section of the registration form.
If you have any accommodation requests or questions please contact Clara at cgerner@cc-pl.org.
*If you have an already established group and are looking for a space to play on this Friday night, please contact Clara and we can make room.  Contact her now as space is limited!
An official digital toolset for Fifth Edition (5e) Dungeons & Dragons (D&D).  Visit here and create your free account for an easy to understand guide on creating characters for 5th Edition Dungeons and Dragons.
Questions about DnDBeyond?  Here is a great tutorial video by
WASD20
on how to use it!
Age Range: 18+
Register for this event
Registrations are closed for this event.