Coffee & Conversation: 'The Third Pole' by Mark Synnott
Wednesday, December 13, 2023
2:00 pm - 3:00 pm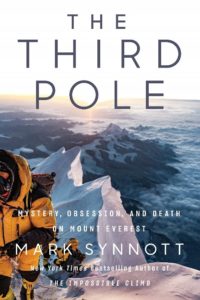 A hundred-year mystery lured veteran climber Mark Synnott into an unlikely expedition up Mount Everest during the spring 2019 season that came to be known as "the Year Everest Broke." What he found was a gripping human story of impassioned characters from around the globe.
On June 8, 1924, George Mallory and Sandy Irvine set out to stand on the roof of the world, where no one had stood before. They were last seen eight hundred feet shy of Everest's summit still "going strong" for the top. Could they have succeeded decades before Sir Edmund Hillary and Tenzing Norgay? Irvine is believed to have carried a Kodak camera with him to record their attempt, but it, along with his body, had never been found. Did the frozen film in that camera have a photograph of Mallory and Irvine on the summit before they disappeared into the clouds, never to be seen again? Kodak says the film might still be viable. . .
Coffee will be provided from Fort Thomas Coffee.
---
If you have any questions, please contact Natalie at ftprograms@cc-pl.org.  Please see all our program offerings in our online newsletter at https://www.cc-pl.org/connections.​
Age Range: 18+
Carrico/Fort Thomas Branch