Coffee & Conversation: 'Bad Blood' by John Carreyrou
Wednesday, May 10, 2023
2:00 pm - 3:00 pm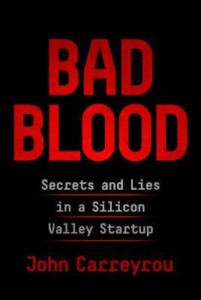 In 2014, Theranos founder and CEO Elizabeth Holmes was widely seen as the female Steve Jobs: a brilliant Stanford dropout whose startup "unicorn" promised to revolutionize the medical industry with a machine that would make blood tests significantly faster and easier. Backed by investors such as Larry Ellison and Tim Draper, Theranos sold shares in a fundraising round that valued the company at $9 billion, putting Holmes's worth at an estimated $4.7 billion. There was just one problem: The technology didn't work.
For years, Holmes had been misleading investors, FDA officials, and her own employees. When Carreyrou, working at The Wall Street Journal, got a tip from a former Theranos employee and started asking questions, both Carreyrou and the Journal were threatened with lawsuits. Undaunted, the newspaper ran the first of dozens of Theranos articles in late 2015. By early 2017, the company's value was zero and Holmes faced potential legal action from the government and her investors. Here is the riveting story of the biggest corporate fraud since Enron, a disturbing cautionary tale set amid the bold promises and gold-rush frenzy of Silicon Valley.
Coffee will be provided from Fort Thomas Coffee.
---
Please note any accommodation requests in the Special Needs section of the registration form.  If you have any questions, please contact Natalie at nshadrick@cc-pl.org.  Please see all our program offerings in our online newsletter at https://www.cc-pl.org/connections.​
Age Range: 18 and Up
Carrico/Fort Thomas Branch
Register for this event
Registrations are closed for this event.