Cam's Kids Book Club — "The Cat Man of Aleppo" by Irene Latham & Karim Shamsi-Basha
Tuesday, September 27, 2022
4:30 pm - 5:30 pm
Welcome to Cam's Kids Book Club:
Register for this program to get your own free copy of the book to keep! Each family can pick up one copy.
Starting September 1st, pick up your book from the library.
Read and enjoy the book at your own pace.
Come chat about this month's book and other books you love at the Alexandria Branch on September 27th at 4:30 pm.
This month's book is The Cat Man of Alepppo by Irene Latham & Karim Shamsi-Basha.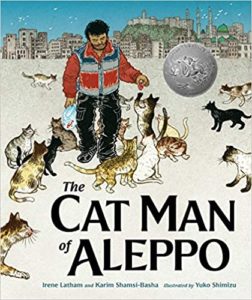 The Caldecott Honor-winning true story of Mohammad Alaa Aljaleel, who in the midst of the Syrian Civil War courageously offered safe haven to Aleppo's abandoned cats.

Aleppo's city center no longer echoes with the rich, exciting sounds of copper-pot pounding and traditional sword sharpening. His neighborhood is empty–except for the many cats left behind.
Alaa loves Aleppo, but when war comes his neighbors flee to safety, leaving their many pets behind. Alaa decides to stay–he can make a difference by driving an ambulance, carrying the sick and wounded to safety. One day he hears hungry cats calling out to him on his way home. They are lonely and scared, just like him. He feeds and pets them to let them know they are loved. The next day more cats come, and then even more! There are too many for Alaa to take care of on his own. Alaa has a big heart, but he will need help from others if he wants to keep all of his new friends safe.
---
Please register all children. Only one adult per family group.
Please note any accommodation requests in the Special Needs section of the registration form.
If you have any questions, please contact Katherine at ksallee@cc-pl.org.
Age Range: Grades 1-5
Register for this event
Only register your child(ren).
Caretakers do not need to register to attend.
Registrations are closed for this event.