Cam's Kids Book Club — "Swish! – The Slam-Dunking, Alley-Ooping, High-Flying Harlem Globetrotters" by Suzanne Slade
Tuesday, May 24, 2022
4:30 pm - 5:30 pm
Welcome to Cam's Kids Book Club:
Register for this program to get your own free copy of the book to keep!
Starting May 1st, pick up your book from the library.
Read and enjoy the book at your own pace.
Come chat about this month's book and other books you love at the Alexandria Branch on May 24th at 4:30 pm.
This month's book is Swish! – The Slam-Dunking, Alley-Ooping, High-Flying Harlem Globetrotters by Suzanne Slade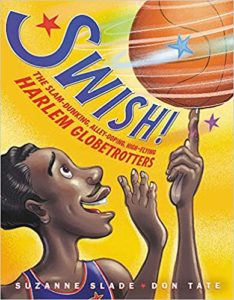 The true story of the high-flying Harlem Globetrotters — the team that changed basketball forever.
In this book you will find one-finger ball-spinning, rapid-fire mini-dribbling, and a ricochet head shot! You will find skilled athletes, expert players, and electrifying performers — all rolled into one! You will find nonstop, give-it-all-you've-got, out-to-win-it, sky's-the-limit BASKETBALL! You will find The Harlem Globetrotters, who played the most groundbreaking, breathtaking ball the world had ever seen. With rhythmic writing and dynamic illustrations, Swish! is a celebration of the greatness, goodness, and grit of this remarkable team.
---
Please register all children. Only one adult per family group.
Please note any accommodation requests in the Special Needs section of the registration form.
If you have any questions, please contact Katherine at ksallee@cc-pl.org.
Age Range: Grades 1-5
Register for this event
Only register your child(ren).
Caretakers do not need to register to attend.
Registrations are closed for this event.